We have a very good used conditions, Hafco Metalmaster CL68A 510 x 1500 centre lathe for sale.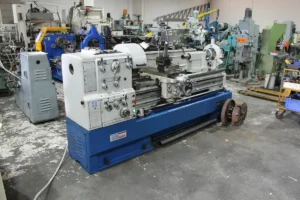 Specifications are as follows
Swing over the bed 510mm
Swing over the saddle 300mm
Swing in the gap approx. 710mm
Distance between centres 1500mm
Spindle bore 80mm
Spindle mount camlock D1-8
Spindle speeds 25 to 1600 rpm
Main motor 10HP/7.5KW
Power requirements 415 volt
Overall dimensions 2.9m x 1.1m x 1.6m high
Weight 3 tons
Year of manufacture 2010
Comes with the following accessories
3 & 4 Jaw chucks
Face plate
Fixed & travelling steadies
Quick change tool post
Thread chasing dial
2 Axis digital read out
Taper turning attachment
Features
Foot brake
Gap bed
Dials that can be read in metric & imperial
Click here for printable (pdf) report & price
We have run this lathe & all works well.
We recommend customers pay us a visit to inspect machinery, where we are happy to test run machinery in our warehouse, that way it gives you peace of mind that the machine will do your job prior to purchase.
This centre lathe is in our warehouse so please feel free to call us on 03-9720-3922 for more information & price or pop in to inspect the machine at your convenience.
We are always interested in purchasing metalworking machinery & surplus equipment. Should you be looking at Downsizing, Relocating, Closing Down or have machinery that is surplus to requirements, we would appreciate the opportunity to assist in any way we can.
Slide show below can be paused by hovering the mouse cursor over the current photo. It will resume when the cursor is moved off the photo