We have an excellent used condition, Feeler FTC20 CNC lathe for sale.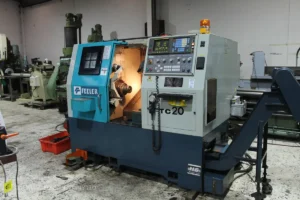 Specification are as follows for this cnc machine:
Fanuc OT Control
Swing over the bed 600mm
Max Turning Dia 350mm
Max Turning Length 343mm
X Axis Travel 175mm
Z Axis Travle 380mm
Rapid Traverse X and Z Axis 24m/min
Spindle nose A2-6
Max Spindle Speed 4,500rpm
Spindle Bore through Draw Tube 50mm
25mm Square Shank Tooling
8 Station Turret
15HP Main spindle motor (continuous)
Coolant Tank Capacity 100 Litres
Year of manufacture 1999
Dimensions for Transport 3.1m x 1.7m x 1.8m (L x W x H)
Weight 3.5 Tonne
Comes with the following accessories:
3 Jaw chuck Hydraulic Chuck
Parts Catcher
Manual Position Tailstock with M Code Quill activation
Tool Setter
This CNC Lathe is in our warehouse ready for inspection under power. Please feel free to phone us on 03 9720 3922 for more information & price.
We are always interested in purchasing metalworking machinery & surplus equipment, if you are closing down or have a quantity of machines you need gone in a hurry, please feel free contact us here at Newmac Equipment
Slide show below can be paused by hovering the mouse cursor over the current photo. It will resume when the cursor is moved off the photo. We also have a video of the machine running below. We also have a video of the machine running at the bottom of the page.